Forums
>
Marketplace
>
FS: Vintage Fiorelli Fausto Coppi 57cm - engraved stem/post/ring/saddle $1000
Lowered: $1000 CONUS only, shipping included.
A true Italian gem. Not widely known, Fiorelli was a builder for Fausto Coppi for a time after his days at Bianchi. Not to mixed up with the the modern COPPI brand, which has no true heritage beyond buying the name.
Great condition. A few chips in the Joe Bell paint, but looks nice. COPPI 3ttt pantographed stem, Campy ring and seatpost. Embossed Coppi saddle. Campagnolo pista loose ball headset and BB. No pedals.
The front wheel is a Suntour Superbe tied and soldered 4x to a mavic tubular rim.
The rear wheel isthat will be included is the mate to the front, but the drive side flange snapped. I am including a set of Gipiemme low flange track hubs in nice condition(rear hub needs axle nuts). I've looked for several years to find a low flange Superbe track hub and haven't even been able to find one archived. The tires are both yellow Tufo tubulars and are for show. I kept them mounted on the tubs for presentation, and had planned on building up the Gipiemme hubs to clincher rims for riding.
Who will comment first: FABEL or FABLE?
We should know soon!!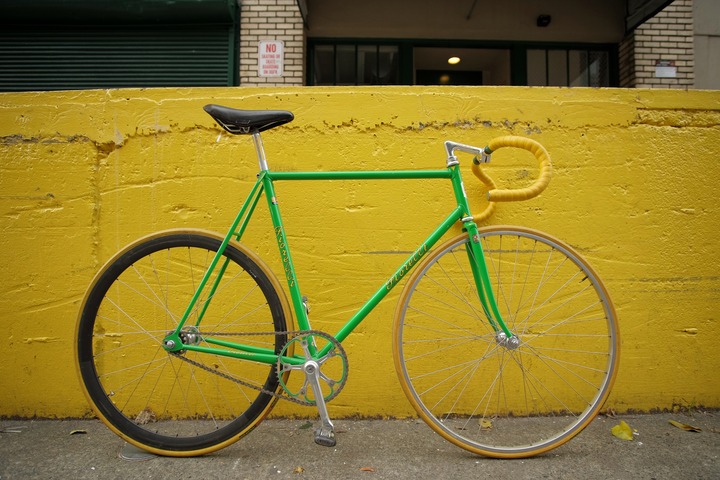 FABEL of course

stem, ring, post, & crankset all flow very well on this. distinctive color combo (besides front tire) as well. GLWS
Thanks FABEL. It's hard to let go, but I can't keep em all and I've enjoyed this for the past decade now. Time for a new home.
aahahhahah who will comment first !!! ahaahh you killed me
of course man; more than deserves the bump. having owned this for over a decade is some serious memories, but I'm sure that Kalavinka will take away any woes - it's beautiful btw. GLWS
Hello,
Any chance of splitting and selling the frame and fork?
Thanks!
Not a chance. I don't want to sell this to anyone who would consider removing the panto'd parts for what I would believe are obvious reasons. This bike has made it several decades intact, and pulling it apart is sacrilege IMHO. Changing the wheels or bars or pedals is one thing, but the other parts should stay put.
thank God for fauxriehl's last reply. this isn't no tarck trendy fashion build. swapping all of these pieces out would be like asking your daughter to get cosmetic surgery on her face to look prettier
Bump
February 6, 2017 04:26 PM
This thing is such a beauty...
Is it ridable as is?

Thanks
February 7, 2017 11:35 AM