I'm not sure if this has been brought up here before. I noticed a lot of roadies have tried these inexpensive rims out, but i was wondering if anyone has used them on the track or city streets. Please post your experiences, opinions, and facts about them. I might be interested, as i am looking to buy a carbon bike track bike.
November 9, 2012 04:54 PM
I've tested the BLB Notorious 90mm and Colossi C-UNIT Aero Ultra 90... both Chinese made carbon clinchers. Both handled great on the streets, but I highly recommend for TRACK only.
November 9, 2012 06:07 PM
I've used a front 88mm carbon clincher for a little bit for street use and it seemed fine. Just don't abuse it.
November 9, 2012 06:20 PM
I got the Newsonsporttex rims from eBay (33mm profile). This is a Taiwanese manufacturer. The rims are solid, but the build (read: aesthetic) quality was so-so. They're not the lightest rims, but the wheel build (Phil wood double butted spokes to Zipp hubs) with 20h fronts, 24h rear is pretty damn light overall.
These wheels are for my street bike (fixed), and have held up to speed check skids and other abuses just short of FGFS (too old for that crap as I rode bmx BITD).
Prior to getting these rims, I researched for a couple months regarding the differences in quality between chinese-made carbon rims versus the Taiwanese-made rims. From what I gathered, the Taiwanese companies typically made a higher quality rim that those made by the Chinese.
[edit]
here are the listings on eBay:
http://www.ebay.com/sch/i.html?_odkw=newsonsportec&_osacat=0&_from=R40&_trksid=p2045573.m570.l1313&_nkw=newsonsportec+carbon&_sacat=0
November 9, 2012 07:45 PM
November 9, 2012 10:23 PM
Is that site finally trustworthy? Have you ordered from there personally? I've heard some bad things about them—they're not exactly as secure as eBay.
November 9, 2012 11:08 PM
i have a 88mm carbon wheel i got from aliexpress which is essentially alibaba. holds up great and didnt take long to deliver. there are some scammers on it but as long as the seller has feedback they are fine.
November 10, 2012 07:47 AM
anybody know any other good sources to buy them? Thx for the input so far guys, very informative.
November 11, 2012 06:13 PM
would love to see some pictures and experiences anyone else has, contemplating buying just some carbon rims to lace to my hubs, completely unnecessary but i'll find some way to justify it.
November 12, 2012 01:16 AM
There was a local forum who did a group buy and they all seem to like them.
November 12, 2012 04:46 AM
I've been using the chinese built 88mm daily on the street for about a year now. I've had no major problems and just recently broke a spoke which I think is pretty minor considering how hard I am on bikes and wheels. I get these things chattering all the time on skid whips. I'm thinking of swapping out the rear hub for a chub hub to improve stiffness etc. I would definitely recommend these wheels unless you are big into freestyle. lightweight, sound, feel and look great. I bought on ebay to avoid potential scams. Not that much more $ than other track wheel sets once you start looking. you only live once - go carbon!
November 13, 2012 05:00 AM
I've been running a set of 38mm chinese clinchers for over a year now and not had any issues. They've held up fine to the abuse of general street riding and even the occasional stack here and there. As long as you buy from one of the more reputable manufacturers (I got mine from hongfu) and get them built by a professional then you should have no problems.

November 19, 2012 03:21 PM
there are several lbs's in my area that sell those wheels. cx riders love them for the price and yes who better to test the quality than a cx rider haha. theyre light and well priced. also not a pain to replace. having them built by a quality wheel builder would be a must though .. at least for me. its the least I can do to reassure the overall quality. i'm currently looking into some for an aero wheelset.
November 19, 2012 05:03 PM
Thanks for the feedback. I think i'm going to get some...Just the rims though, then have them built. Seems like the way to go.
November 19, 2012 08:34 PM
Same here, thanks for making this thread. I have always been curious.
November 20, 2012 01:02 AM
Just ordered a 5 spoke carbon front wheel from a seller on alibaba. So far so good I will tell you more about it when I get it. Should ship out tomorrow according to the seller ! stoked
November 20, 2012 09:04 PM
how much was that 5 spoke wheel?
November 21, 2012 06:23 AM
November 21, 2012 07:41 AM
The wheel was around 500 US dollars. But I forgot to mention it's the tubular version. However they do sell a clincher version witch is prolly equally satisfying as this one but maybe slightly heavier.
Haven't had the chance to ride it yet as I'm waiting to get gluing tape to stick the tubular on. Anyway here is a quick pick.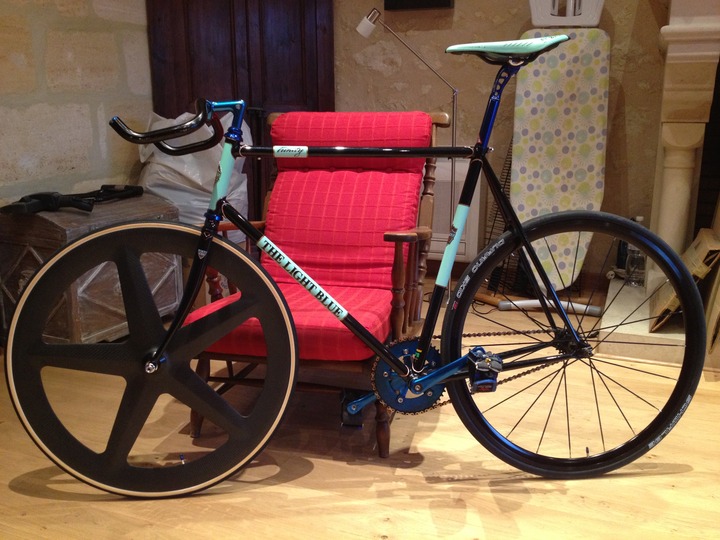 November 27, 2012 12:41 PM
damn you received that pretty quickly. looks dope.
November 27, 2012 05:34 PM
Yeah the seller I was in contact with was very helpful and answered all my questions without delay. She, a certain Miss Betty, even ask me to send her an email when I got the wheel to make sure the shipment went as planned. I have no cons against buying these wheels so far and will gladly do it again.
November 27, 2012 06:22 PM
now time to get some mavic stickers for it.
November 28, 2012 01:11 AM
Have been riding the five spokes for a few weeks now and I must say I have nothing against them ^^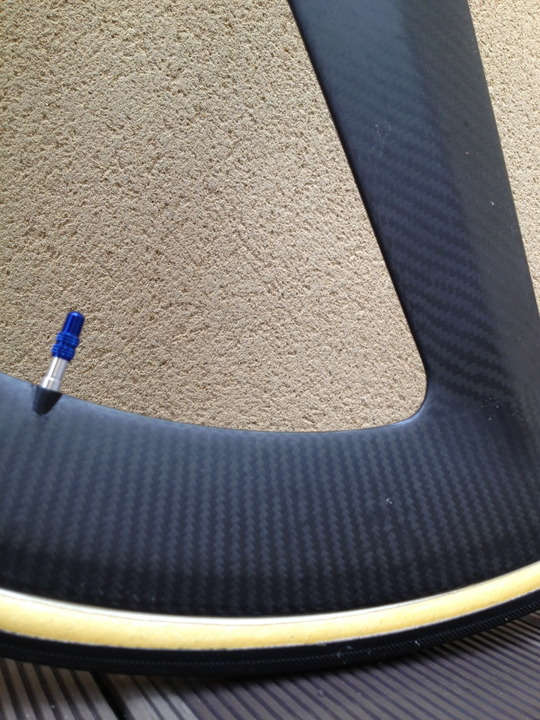 December 27, 2012 05:12 PM
good god please dont get mavic stickers for it . its fine the way it is hah.
plus its not even close to what the mavic io looks like. (still nice though)
December 27, 2012 07:09 PM
Wasn't planning to my friend !
And yes it just just cannot compare with an io but my wallet keeps reminding me I made the right choice ;)
December 27, 2012 08:42 PM