Front or rear? Not looking to start randonneuring or anything, so I don't need both. I feel like more people have a front rack instead of a rear, but that seems less...safe. Front loading the weight seems like it would affect handling and steering a lot more than a rear. What set-up do you all use?
cetma or dieee. In all seriousness I prefer a backpack but if I need to use a rack, I use a front velo orange front rack with a basket zip tied on. Unless you're carrying a bunch of stuff its not too bad on handling.
pass & stow, cetma halfrack, velo orange porteur, soma demi-porteur, surly 24 pack

in that order
+1 for VO front rack + Wald Basket zip-tied to it, that's been my setup on my Work for a year now, best decision i ever made. fuck sweaty ass back-pack bs.
Any particular reason you all went with a front over a rear? I worry about hills at speed with a front rack...
lane from cetma says this and i'm inclined to agree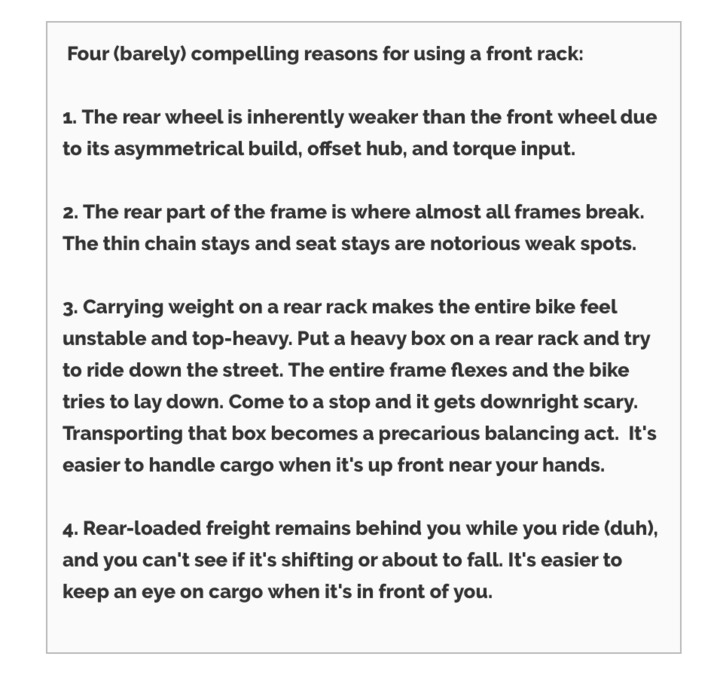 Of course he does, because he wants to sell front racks.

Based on my experience I agree that having weight over the front wheel does feel more stable but #1, 2 & 3 of what he says is over-exaggerated jibber jabber, while #4 is just common sense.
ehh #1 is pertinent too, particularly with heavy cargo

what sort of weight are you hauling?
Nothing much, beer, groceries, fire wood. Might become a commuter rack, so maybe a bag with laptop/books/keys/sketchbook/clothes/etc inside. More situation and daily usage than anything else.
panniers and a conventional rack, either front or rear, are going to be more economical for that type of load
You should not do it right but you should do it safely. Also, I wanted to recommend a coursework writing service -
uk.papersowl.com/coursework-writing-service
for you. It will help you to be a more smart person and your children to be more smart schoolchildren.
Replies aren't allowed because this topic is closed.