Essentially the site is running well enough, except that this forum continues to be overrun with insane bot conversations, right? (I took all my bikes down when the AI started posting its own).
Im not going to post his info. Lets just hope he comes back
maybe he's on vacation in the dominican republic. heard it's so beautiful people not coming back.
I would never ask for his personal information to be posted on here, and I apologize if that's the way my other post appears. I was just hoping that someone on here was in touch with him every now and then. He hasn't been even remotely active on 6gc.net in about ten years, only showing up to fix the forum when it crashes. And it does crash, since there's no admin around to take care of the bugs. :/ Seems like we're out of luck this time though.

Per the spam issue- we have the same issue over on 6gc. As a mod, I can delete the posts from the forum and ban the bots from posting in the forum anymore but Coomer removed the ability from the mods to do anything else, so the bots run rampant on the rest of the site. We feel your pain there. Coomer implemented a policy over there to control the bots where new members are "trial" members and their posts are kept invisible until approved by a mod, and members are supposed to gain full posting privileges after 5 posts. However, there's a glitch in the site (when it's up, anyway) so that new members have to make well over 100 posts before gaining full membership. As you can imagine, nearly nobody sticks around because of it.

Hopefully Coomer's beautiful "extended" vacation is over soon. I know he's busy running his company but it looks like you guys need an admin to show up every once in a while like we do. There's always Facebook but some of us just prefer the forums.

I'm in Denver as well, sucks that I can't catch up with him over a cup of coffee to see about solutions for Pedal Room and 6gc.
Y'all have become the bots, with Coomer as your master.

Coomer = MASTERBOT.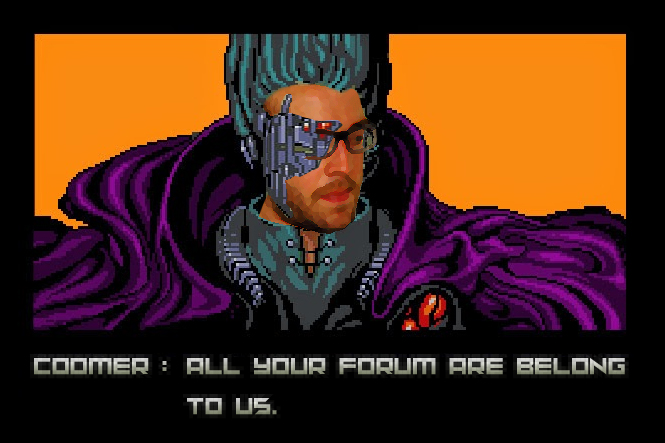 ^^^^^^^^^^^^^^^^^^^^^^^^^^^^^^^^^^^^^^^^^^^^^^^^^^^