Found this Alan trackframe.
Came without any decals.
Ordered some reproduction decals and added parts.
A pity there are 2 cracks on the headtube lugs, but needless to say a very nice trackbike . . ALAN was founded in 1972 by Falconi Lodovico, an engineer who had worked for bicycle manufacturer Torpado .
The name ALAN comes from the first two letters of the Lodovico's children, Alberto and Annamaria. It was the first company to introduce an all aluminium bicycle frame made from aerospace grade aluminum In 1976,
ALAN was again first in developing and manufacturing a production carbon frame made by bonding Torayca carbon fibre composite tubing to cast aluminium lugs, a process still widely used today by many manufacturers.
Over the years the firm's frames were ridden to 20 cyclo-cross world championships titles, 5 track world championships titles, numerous one-day classics wins, as well as Grand Tour stage wins.
.
55cm center center
56cm center top
55cm top tube
Frame: Alan aluminium
Fork/Headset:
Alan aluminium / Gipiemme pista
Crankset/Bottom Bracket:
Gipiemme pista 167,5mm / Gipiemme pista
Pedals:
Gipiemme pista
Drivetrain/Cog/Chainring/Chain:
49-16 / 16t / G 49T / DID
Handlebars/Stem:
Cinelli 65-40 / Cinelli 1A 120mm
Saddle/Seatpost:
Turbo / Campagnolo nr 25mm
Campagnolo seatbinderbolt
Front Wheel/Hub/Tire:
Mavic / Campagnolo pista / Deda olympico
Rear Wheel/Hub/Tire:
Mavic / Campagnolo pista / Deda olympico
More Info:
2 small cracks on the headtube.
Reproduction tranfers.
No dents. .
Asking 750,- Euro
Offers are welcome
Dm for info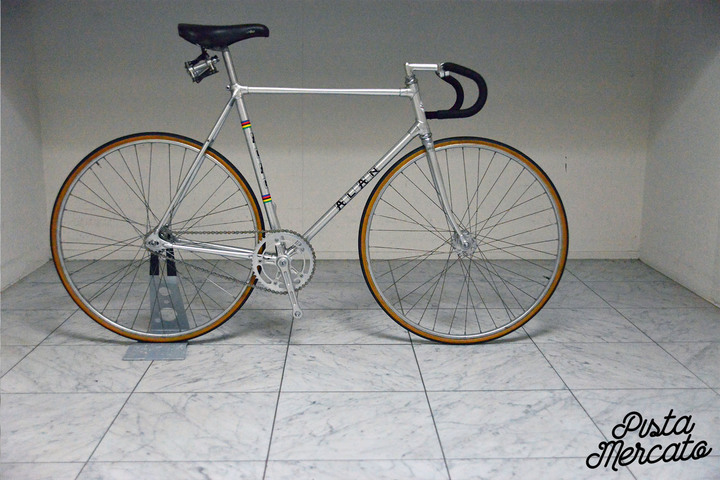 February 6, 2020 09:28 PM
.
February 9, 2020 11:34 AM
Sold.
February 18, 2020 02:35 PM
Replies aren't allowed because this topic is closed.