Forums
>
Marketplace
>
FS: 1991 Takhion Super Sport SS Aero Track, Pista CCCP USSR, Rare Small Size
(closed)
1991 Takhion Super Sport SS Aero Track Bicycle Pista CCCP USSR. 700c.
-Frame - 1991 Takhion Super Sport, 51cm/small, Columbus SL tubing
-Fork - Takhion with handlebar mounts
-Handlebar - Takhion
-Crankset - Takhion, 170mm, Sugino 75 chainring
-BB - Campagnolo
-Headset - Russian or something, proprietary to the hidden headset of this bike
Hate to sell but I got a brand new bike and those things aren't cheap! I have to let two older bikes go. Anyway, all the hard-to-find stuff is there, just add your personal touch with wheels and seat. Done! Now you're cruising a Soviet-era, Ukrainian-built, UCI-banned, hidden headset, fork-mounted handlebar speed machine that is very rare and different. Takhion made something like 400 bikes altogether in its history, and only a couple dozen SS models...and I've never seen another one in this small size. You can do a search on them, the info is limited but it's pretty fascinating. Lots of cool pics of them being used by the Soviets in competition. Speaking of pics, the last two pics are of it built up...frame, fork, crank, bb, headset, and handlebar are included. Questions? Comments? Message me.
Was $3100, now $2500 or best offer because of small crack found on chain stay tube. See pic and description a couple posts below. Free shipping in the USA.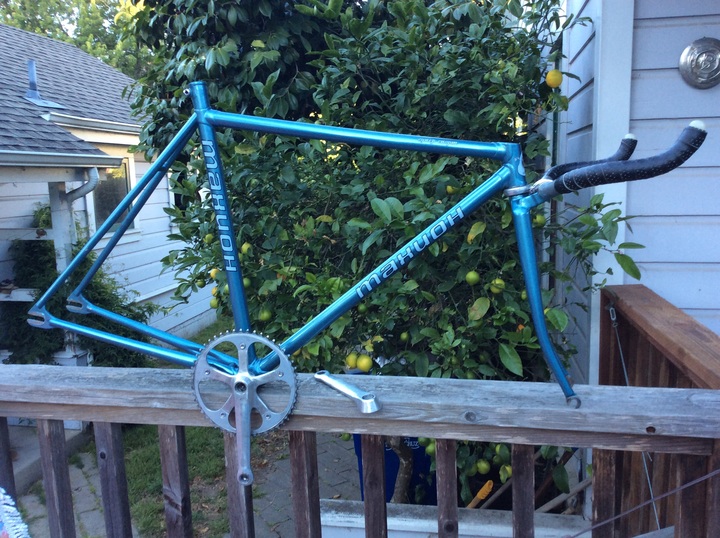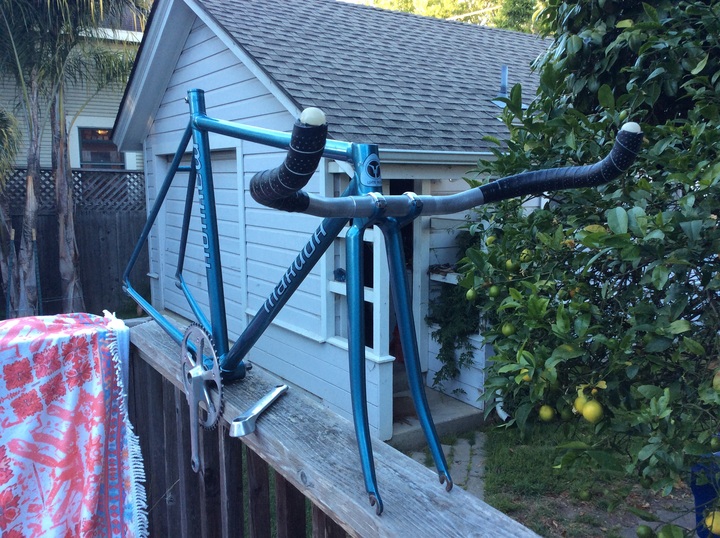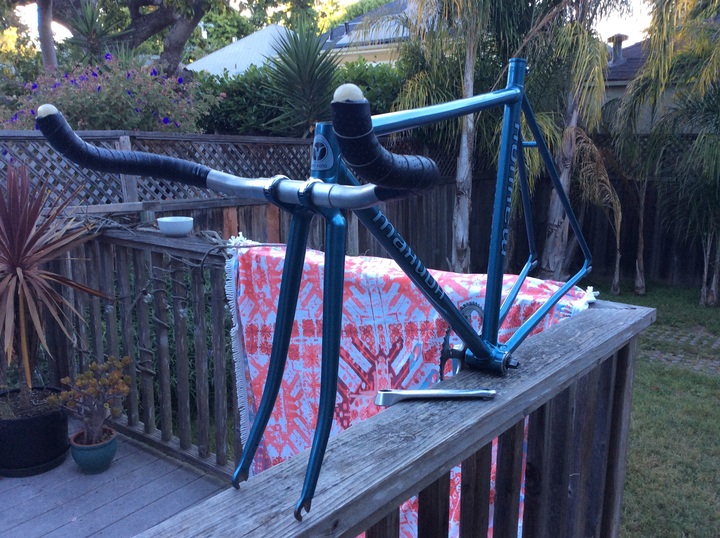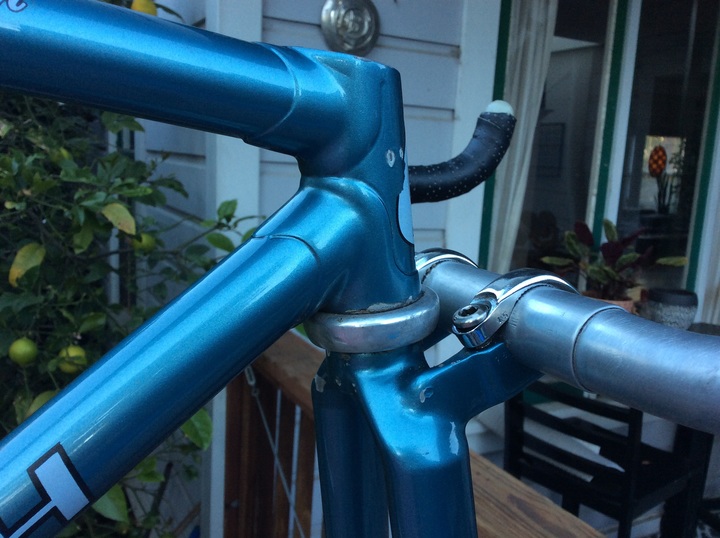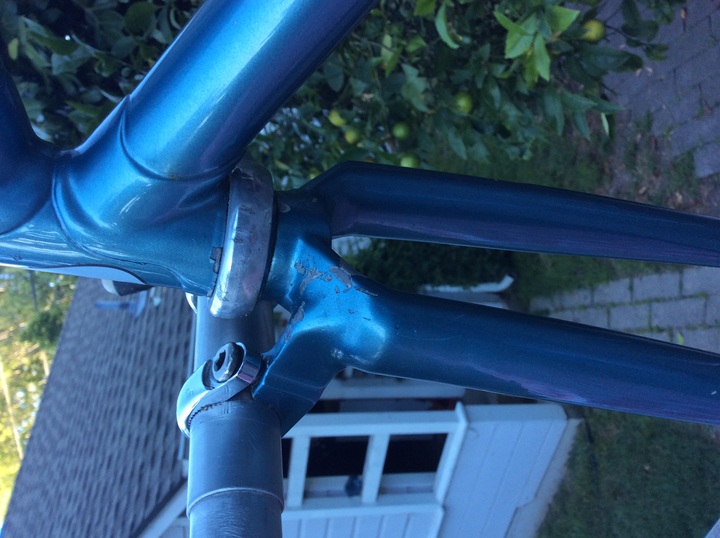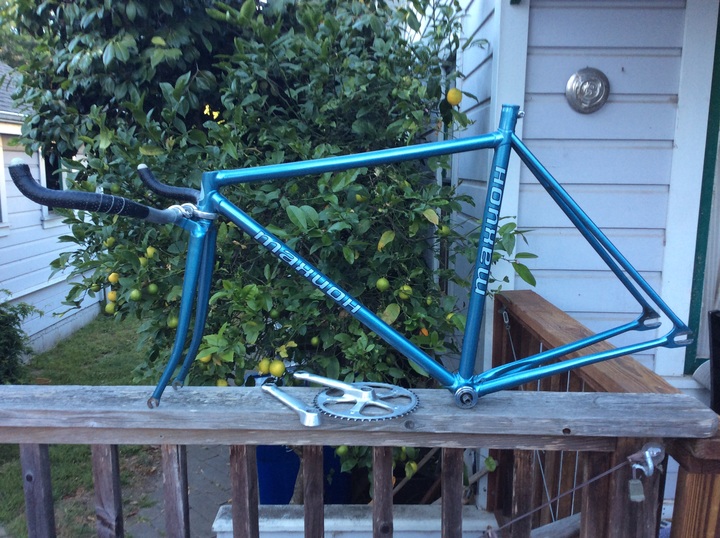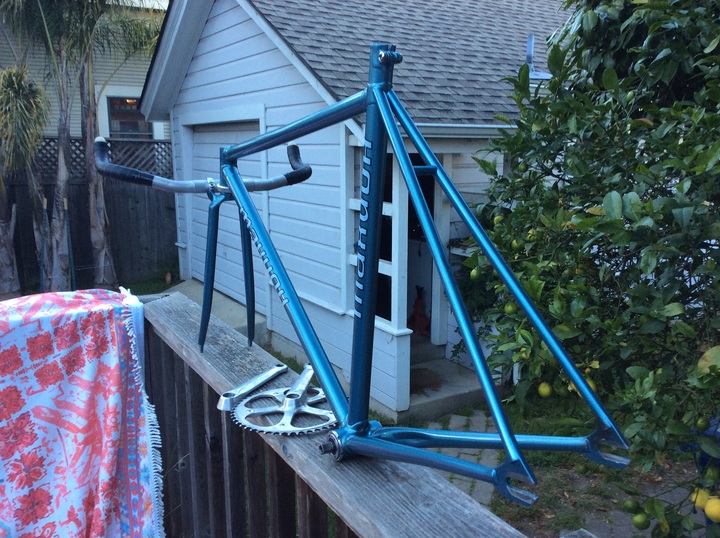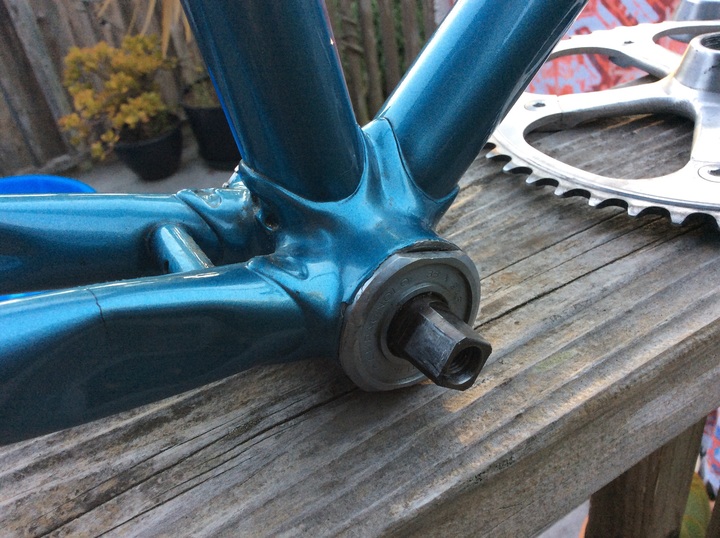 there is a crack on a chainstay tube!
Damn! You're right! I never noticed it until you mentioned it and it's so obvious in the last picture of the ad! The chainring must have been hiding it. Well, I sanded the area down and took a picture of it, looks like a previous owner put a healthy dose of bondo on the crack and painted over it. It's about 15mm long on top of the chain stay. I'll lower the price and take offers.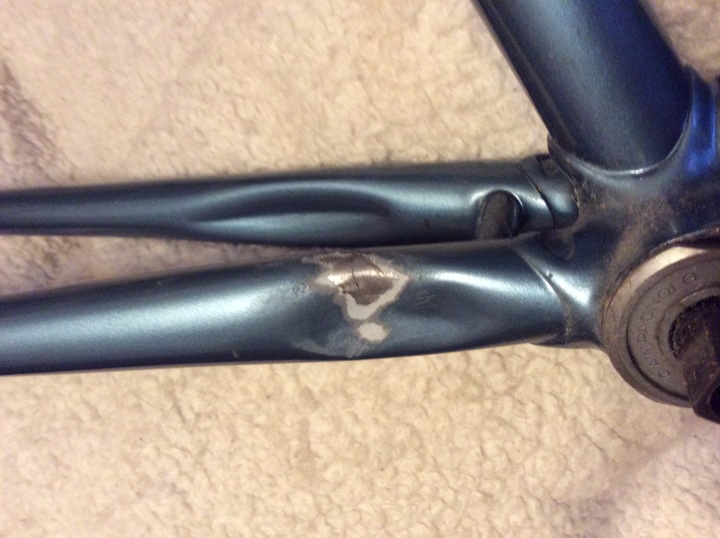 Wont you share the contacts of the person who sold the frame with such issues? That's what you might get when purchasing repainted frame
You know the person I bought it from, but I don't know who repainted it or when it was done. I was just really happy to find one and jumped on it immediately. Anyway, I think you and I have chatted on Instagram before.
Damn, all I'm trying to do is sell a vintage bike frame and now I've got a broken bike that is almost not sellable and the person I bought it from getting crazy from multiple accounts! The two posts above this one are the same person and he also has multiple IG and Instagram accounts. I've gotten several messages from Pedalroom members who recognized my Takhion and warned me about the seller, but the seller was nice to me and I was fooled. They also recommended that I say who the person is so that no one else gets ripped off, but I felt weird about that until now. Anyway, since he's trying to shit on my name and reputation with some disparaging post from one of his many accounts, I guess I should say his name is Philip Yadrou from Minsk, Belarus. I didn't want all this, but I'm glad the cracked chain stay was noticed. I would hate to have sold the frame and had someone get hurt, and then it looks like I was the jerk that covered up and sold the broken bike. Forum moderator, please let me know if this post is not to protocol or if there is another way do this. Sooo, my Takhion SS is still for sale, it's small and has a cracked chain stay! Thanks!
Yes , I sold this frame to CA 2 years ago and frame was in working and fresh condition .
Not reall repainting bike with crack because any crack will be on the on a surface .
I have pics this frame without paint and can show everyone about this .
Haha , Adam ! Is you ??! You listen mean and opinion someone bastard and trust him ??!
Damn !
Also , you can show our dialog where I said you : this steel is morally tired , it's normal for a bike from 1990 . But we can restore it ! I have new tubes . We can do it if you really love this bike and want to save !
- show it ! Californian dude ! Where is mine payment for wheels ? I given you free bike and shipping for this , I did for you pink-color takhion and now you say about me bad things because you hear one small b*tches ?)
I think you most clever guy
Don't worry , I show everyone more pics of this bike
Love haters !

First pict (one dent on tt )
Cool. Well this has gotten nasty! I was trying to ignore the comments about the wheels because it seems so foolish to do all this on a forum. I bought a Takhion handlebar from Philip Yadrou and he included a Fluidisk road wheel in the package. He had included gifts in his packages before, even chocolate, so when I got the wheel I was stoked. I figured he gave it to me because it had a broken freewheel. Phil, I'll gladly send it back to you, just send me the money for shipping. Which account of the many former and current accounts you have on Instagram and pedalroom should I reach you on? It's a shame when a business relationship goes sour. Phil, thanks for the past gifts and I do absolutely love the pink Takhion I bought from you. I hope your mom and dog are well, and best of luck in your future endeavors. The topic of our business is over, I've spent too much time explaining and defending, typing with just my thumbs! I won't respond anymore. Like I said before...Takhion SS is still for sale. It's for a smaller rider and has a crack in the chain stay.
Yon have my address ?
We discussed exchange my wheels on the motorcycle tires ? -but ok

I never nothing hidde for you and for all others guys girls and all my clients .
And this "conflict " only mine and yours . But if you want discuss it in public -please , I am agree .
Very sad , Adam , I also wish you only better moments in life ! With Chantel and Angus
Peace
Oh no please keep talking here. This is better than my telenovela.

How does steel get morally tired? I didnt know steel had morals to begin with.

Bondo over crack is whack.

Randomly shipping over wheels and then demanding payment seems like a huge scam.

Just remember folks, use paypal and dont trust anything coming from eastern europe/russia.




"Bondo over crack is whack." <- this crack created after 2 years of using bike in CA , I could given 1 year of guaranty for bike and after said him next : I don't know , Adam , this is yours problems .
But I offer him make restore of tubes and do it for him absolutely free , because we are friends

" Randomly shipping over wheels and then demanding payment seems like a huge scam. " <- you don't know all situation , and can't talk about scam and others things , because you viewer .

Yes , I am Philip and I am bestsellers from Belarus

Also , price for Adam was 1,970$ shipping FREE


Replies aren't allowed because this topic is closed.