For Sale:
Basso Titanium / Litespeed Obed MTB Frame
Full 3AL - 2.5V Ti Frame
Seat tube length ctt: 17.25" (approx 44cm)
Top tube length ctc: 21.25" (approx 54cm)
Head tube length: 118mm
Seatpost diameter 27.2mm
Headtube diameter: 1 1/8"
Serial Number: 14535
(Builder stamp: MX or XW)
Frame fits 26" wheel
***INCLUDES FRAME ONLY***
No other parts are included at the price listed, they are only shown for ease of photographing and presentation.
Titanium frame branded for Basso and made by Litespeed during the heyday of Litespeed while Dave Lynskey was still at the helm. Ghost outlines of the original Basso decals still can be seen in the right lighting. Smooth stacks and consistent welds throughout. Sexy s-bend stays. Factory original aluminum alloy inserts for head tube and seat tube.
Threads and interfaces are all in great shape. Frame shows several marks, scratches, and signs of wear. Previous owner also marked it up some while removing the Basso decals at some point. Could be left as is, or easily cleaned up via polishing, scotch brite pads, fresh media blasting, etc. Would also look great with some fresh decals, I'm sure Gil would whip some up with ease.
Again, this is for the frame only - Nothing else is included but the frame.
Asking $450 + shipping/paypal. Worldwide shipping available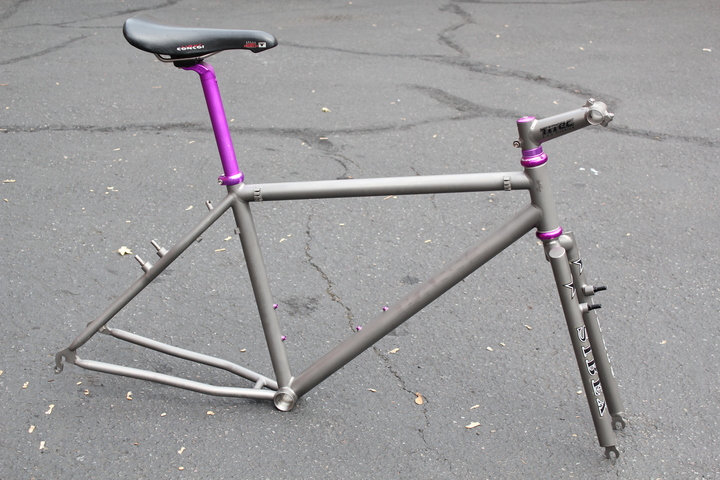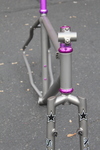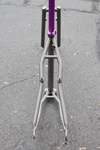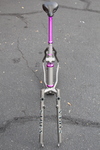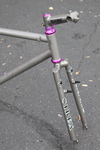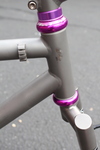 October 20, 2019 12:24 AM
Buuuump
October 28, 2019 09:03 PM
Still for sale!
November 26, 2019 12:43 AM
Bump!
November 30, 2019 09:14 PM
Cyber Monday Sale!
Big discount off! Now only $400 + shipping/paypal
(for frame only, no other parts are included)
December 2, 2019 10:06 PM