Forums
>
Marketplace
>
FS: Pinarello Cadore 53cm Columbus Lugged Steel Road Frameset
(closed)
SOLD:
Pinarello Cadore Frame & fork
Seat tube ctc: 52.5cm
Top tube ctc: 53.5cm
Seat tube ctt: 53.5cm
Head tube: 108mm
Steer tube: 1" Threaded
Rear dropout spacing: 130mm
Bottom bracket: 70mm Italian
Seatpost diameter: 27.2mm
Brakes: Road caliper
Wheel size: 700c
Beautifully crafted hand built frameset. Many ornate details and pantographs throughout. Full Columbus tube set used for frame and fork. The original high quality metal Pinarello head badge still remains. Pinarello logo hard carved into down tube head lug. Seat stay caps pantographed with Pinarello logos, as well as fork crown. Rear brake bridge is lugged with Pinarello logos hand cut into lugs. Pinarello stamped and chromed dropouts front and rear. Pinarello pantographed onto bottom bracket shell. Internal cable routing for top tube and bottom bracket.
Paint shows several fade spots, many chips, scratches, and blemishes. Decals for this era of Pina' frames were above the clear coat and were notorious for coming off if one even looked at them too sternly. But the frame is of very high quality. Would be great preserved as is, or it would also look amazing if freshly refinished and repainted. No dents, cracks, or damage of any kind that I can see. Just cosmetic blemishes. Asking ***$SOLD***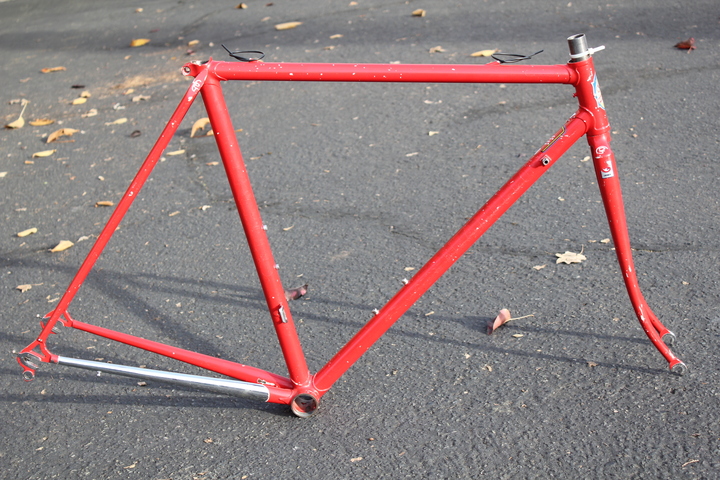 December 2, 2019 10:10 PM
Bump
January 29, 2020 11:32 PM
Replies aren't allowed because this topic is closed.