Very rare frameset from early 80s, preowned by double road world ttt champion Alexander Zinoviev. Columbus air tubes and original seat post shaped drop.700C/650C. Sizes: 590ct seat tube, 570ett top tube. "Ear" for front derailleur is welded to the seat tube(seat tube is not broken), rear derailleur Mavic + aero mannetes(shifters) Gipiemme, aero seat post Sannino, bb, hs.
590$+100$ shipping






October 13, 2019 06:04 AM
Rare 1998 tt frameset B.Hinault with carbon fork.700C/700C; sizes - 580ct, 570cc seat tube; 570ett top tube; cr-mo frame + carbon fork + bb + hs. In under 23 age, preowned by Eduard Vorganov - national elite rr champion and ex rider of World Tour team Katusha.
590$+100$shipping.







October 18, 2019 08:27 PM
1st generation Colnago Master. Size 540ct seat tube, 550ett. + seat post Campagnolo Record and Colnago art décor saddle + HS Campagnolo Record + stem 3ttt Colnago(100mm) and bar. No dents. 890 euros including shipping and pp fee.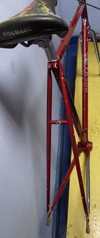 October 28, 2019 07:42 AM
^
November 22, 2019 04:54 AM
^
November 29, 2019 07:03 AM
^
December 6, 2019 06:27 AM
^
December 13, 2019 06:05 AM
^
December 20, 2019 07:05 AM
^
December 27, 2019 04:58 AM
^
January 11, 2020 10:42 AM
^
January 17, 2020 05:09 AM
^
January 24, 2020 07:51 AM
^
January 31, 2020 04:45 AM
^
February 7, 2020 06:55 AM
^
February 14, 2020 07:16 AM
^
February 21, 2020 07:49 AM