Very rare track complete bike XB3 Sport Kvant Special Order 1987 with original XB3 components(except saddle - Concor).Sizes - seat tube 590ct(26,2); top tube 560ett. No dents. 600euros shipped.
February 28, 2017 05:47 AM
Very rare Meteor B68 XB3 special order 1977y.b.frameset + original bb and hs, sizes - 535cc seat tube; 550ett top tube . No dents. 390euros shipped.
SPORT GIT XB3 special order.weight in this complectation 4600gr. 550ct seat tube,550ett top tube, + original hs and bb. 2 small dents at top tube - pics.8-9.Rare fork for 1 km,IP, TP races, drilled for road using...370euros = 450$ shipped.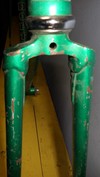 ^
September 6, 2017 06:35 PM
^
September 16, 2017 07:40 AM
^
September 27, 2017 07:50 AM
^
October 14, 2017 09:50 AM
^
October 27, 2017 08:41 AM
^
November 5, 2017 02:19 PM