Very rare, made from Columbus tubes in 1987 №070. 560cc - 570ct - seat tube;560ett top tube;27,2 seat post tube diameter, tubular rims. All components XB3 special order(exclusion - saddle San Marco ). Fork drilled for road using. 630 euros shipped.
These were so called special order bikes and were only issued for cycling schools. Kvant was made from 1987 to 1989, latest frame №, I ever seen, was 160. This particular one was made in 1987. In USSR only Kvant and Takhion were made from imported Columbus tubing as they were designed for better performance and being top of the line USSR track bikes.






February 28, 2017 05:47 AM
Very rare Meteor B68 XB3 special order 1977y.b.frameset + original bb and hs, sizes - 535cc seat tube; 550ett top tube . No dents. 400euros shipped.





SPORT GIT XB3 special order.weight in this complectation 4600gr. 550ct seat tube,550ett top tube, + original hs and bb. 2 small dents at top tube - pics.8-9.Rare fork for 1 km,IP, TP races, drilled for road using...370euros = 450$ shipped.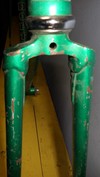 ^
September 6, 2017 06:35 PM
^
September 16, 2017 07:40 AM
^
September 27, 2017 07:50 AM
^
October 14, 2017 09:50 AM
^
October 27, 2017 08:41 AM
^
November 5, 2017 02:19 PM