Forums
>
Marketplace
>
FS: USSR track framesets and bikes Sport Git+Record+2 Samoilovs
XB3 special order.560cc 560ett top tube 1987 №507+ original hs and bb.
370euros = 430$ shipped frameset.
February 28, 2017 05:47 AM
Built in early 90th by great russian frame builder J.P.Samoylov. Seat tube size 500cc,27.2 seat post diameter, Italian thread 36; 1 small dent at top tube. SOLD.
XB3 special order.weight in this complectation 4600gr. 550ct seat tube,550ett top tube, + original hs and bb. 2 small dents at top tube - pics.8-9.Rare fork for 1 km,IP, TP races, drilled for road using...360euros = 420$ shipped.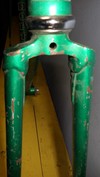 Record-Olympic Moscow 1980 from very rare and limited edition serie.. 580ct seat tube; 570ett top tube. All original XB3 components...SOLD

560ct seat tube; 550ett top tube. All original XB3 components from 60s. Plastic saddle XB3 special order from 70s. 430 euros shipped to Europe..

Rare, Columbus tubes,1991y.b.,seat tube 470cc; top tube 530ett. Crankset XB3 special order 165. 590$ shipped bike(without pedals)

Rare, 1991y.b.,seat tube 480ct; top tube 510ett. For sale - frameset + bb + hs + extra present : stem-bar(XB3 special order)and seat post(27.2)-saddle.
450$ shipped

^
September 6, 2017 06:35 PM
^
September 16, 2017 07:40 AM
^
September 27, 2017 07:50 AM
^
October 14, 2017 09:50 AM
^
October 27, 2017 08:41 AM
^
November 5, 2017 02:19 PM