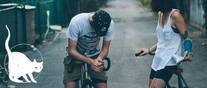 Joined:
Location: Montreal, Canada
7 forum posts
6 bikes
Website: http://www.chatderuelle.com
Chat de Ruelle is a cycling blog based in Montreal founded by us, two commuters and bike enthusiasts, Eric Gendron and Camille Perreault. Chat de Ruelle is about the community, the culture, and the people revolving around biking. We believe that biking is for everyone and is non-discriminatory. Boy or girl, young or old, casual rider or pro, and everything that falls in between, we think that cycling will bring something positive to anybody.

It's with this idea in mind that we came up with this platform. Chat de Ruelle functions both as a cycling reference accessible to neophytes, yet interesting for more experienced riders, and as a space for riders to read about and share biking experience. We created Chat de Ruelle because we believe there wasn't a Website about rad non-professional riders and street centered. We are trying to cater to the more underground aspect of cycling as well.

Photographs, patches, t-shirts, unless noted otherwise, are made by us. This state of mind applies to the products and items we endorse. Local, handcrafted, made to last, and fair-trade are key qualities. This blog falls within the DIY culture.

Another very important value of ours is honesty. Mark our words, if something si written here, it's because we do believe in it. No bullshit here, 'cause honesty is the best policy. Right?
Chatderuelle's Favorites