View full bike details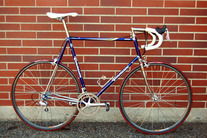 Coomer: What's your name, what do you do, and where do you live?
Bryan: My name is Bryan. I live in Seattle, WA, and I run a small bike shop called Emerald City Bicycles. I specialize in doing custom builds for people. I really enjoy working with classic bikes, specifically '80s, '90s, and early 2000s frames and parts.
Coomer: How long have you been doing Emerald City Bicycles for?
Bryan: Emerald City Bicycles officially started in March, 2012. So this is my first year in business. I've been a bicycle mechanic going on about 10 years, and I've been tinkering, taking things apart and putting them back together, for as long as I can remember. I got a big-wheel (one of those plastic tricycles) when I was a kid, first thing I did was take it apart.
Coomer: What's your favorite thing about running Emerald City Bicycles?
Bryan: Being surrounded by bicycles, working with my hands, and of course getting to build beautiful machines that are functional and useful.
Coomer: Speaking of beautiful machines, what would you say is your favorite bike, and why?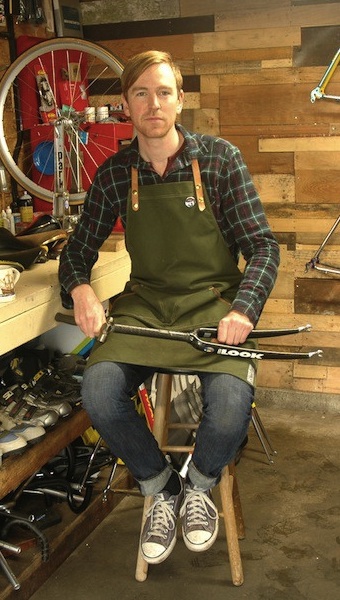 Bryan: Currently, it's my Tommasini Sintesi. I built up the Tommasini with a full Campy Chorus 10-speed alloy group. It's a beautiful classicly styled Italian bike with slightly more modern Italian steel tubing and Campy 10-speed drivetrain. So it rides smooth, works well, it's not too heavy, it's stiff and responsive...and it looks good.
Coomer: What do you have in store for future projects or future plans with Emerald City Bicycles?
Bryan: With Emerald City Bicycles, right now I'm an appointment only shop. So a customer will contact me about a bicycle, we'll sit down, typically over a cup of coffee or a beer. We talk about what they want to do with their bike, how much they want to spend and what they want the finished product to look like. From there, I go out and find a frame, hand select all the components and then put everything together for them. The end product is a very personalized bike.
I've also started doing bicycle fits, so I can fit the bike to people better and find better-fitting frames. So you end up with an essentially a custom-built bicycle without the custom-built price when you have a custom frame made. I use used frames, vintage and classic frames, newer bikes too, but I really do love the ride and aesthetic of steel frames.
For the company itself, right now it's just me, a one-man shop. I'm looking into expanding into a storefront sometime in the not-too-distant future, and making it more of a full-time retail space as well. I think there is a lot of potential for growth.
Coomer: What are some of your favorite rides? What do you love about riding in Seattle?
Bryan: My favorite go-to ride from here - I live in the Ballard neighborhood of Seattle - if I only have a couple hours to get out in the morning, I like to do the Magnolia loop and then ride the Myrtle Edwards trail down the Seattle waterfront and loop back up and over Queen Anne. Hitting Discovery Park and the top of Queen Anne on the way gets me a fair amount of climbing in a short ride, which is one of the great things about riding in Seattle - there's a lot of hills. That ride takes me through a lot of beautiful locations as well, Discovery Park winds through the trees, not a lot of stop signs, not a lot of stop lights.
Coomer: You do some racing right? What sort of racing do you do?
Bryan: I've done cyclocross racing for the last three seasons. I'm fairly new to that and it's been really fun doing single-speed cyclocross. I've been working my way up and getting faster. So that's been really fun. Before that, I did a fair amount of alleycat racing for a number of years, with you Coomer...usually trying to see which one of us is gonna win. Hopefully we'll get you on a cross bike too and we can compete there as well. It'd be a Pedal Room/Emerald City Bicycles cyclocross team.
Coomer: Sounds like a plan. I think that's about it.
Be sure to check out Emerald City Bicycles and get in touch with Bryan if you need a sweet bike built! And be sure to check out the photos from my visit to Emerald City Bicycles below!