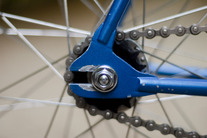 Joined:
Location: Brussels
40 forum posts
12 bikes
28, vintage steel bike lover. Belgian and Italian, mostly, as I'm 50/50 myself.

Owner of Rossin, Faggin, Concorde, Scanini, Flandria, Rider, Moser, Ludo, Merckx, Liotto,...

Road and Fixed Gears.

Daily commuter, not an athletic rider but sure a 2-wheels lover.

I'll post all my bikes as soon as I can make photos of them.

Don't hesitate to comment, write and share !

Cheers !
sebpep's Favorites