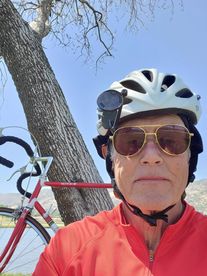 Joined:
Location: Tehachapi, California
28 bikes
I am an old roadie who has been riding road bikes for over 50 years. In my retirement, I enjoy all kinds of bicycles but mostly enjoy restoring and riding classic road bikes. I divide my interest into four groups. I have a great interest in pre-bike boom road bikes of the 60s (that I drooled over as a kid). The bike boom road bikes of the 70s and early 80s; which carried me to many an adventure. I also find the transition era road bikes (between classic steel and modern monocoque carbon) interesting. In the 80s and 90s they showed great innovation that may never be seen again. Lastly, Klunkers and other proto-mountain bikes, have a strange organic appeal; they remind me of simpler, carefree days.
I live in the mountains of California where level road only exists to connect climbs and descents. I soon discovered that I needed lower gearing and a slightly more upright position to accommodate my age, rebuilt heart (2/3 of it works), compressed disks (in my neck) and my carpel tunnel syndrome. Youth is wasted on the young!
I am not a purist, but respect history. This is reflected in my build philosophy.
First, a bike must please me and I must enjoy riding it. I need low gears; but love the feel of a racing frame. For me to enjoy the bike, it must be equipped for my needs.
Second, modifications must be plausible, period correct and reversible. I have been riding road bikes for over 50 years and remember what was done to them back in the day. It was rare for a road bike to remain as delivered. I try to make what would have been logical upgrades for the time. For example, a good early 1960s bike that was equipped with what was top of the line equipment when it was built, say Campagnolo Gran Sport, might have logically have been upgraded in the late 60s or early 70s, to the much nicer Nuovo Record.
Third, I keep the original paint if it is in reasonably good condition. If I repaint, I might use the original scheme and color; but only if I like it. If not, I may tweak the scheme to fit my taste while trying to maintain the "flavor" of the original. At this point some purists may scream, but remember my first rule.
Fourth, original is nice but normal wear items are basically up for grabs. During their active life, many bikes were upgraded to a more modern sealed bottom bracket and/or headset. Derailleur pulleys were commonly upgraded to "Bullseye" pulleys. Back in the day, many riders had at least two wheel sets. A tubular set (we called them sew ups) and a clincher set for training. I usually convert to clinchers using period correct pieces. Who is to say what wheels would have survived for 40 or 50 years?

OldRoadieTehachapi's Favorites